Montero Expands Land Holdings at the Isabella Gold Silver Project
February 15, 2021
Toronto, Ontario – February 10, 2021 – Montero Mining and Exploration Ltd. (TSX-V: MON) ("Montero" or the "Company") has received confirmation of issuance of exploration licenses east and contiguous to the currently held Isabella claims. The new claims cover an additional 7 km of granite-sediment contact with reported granite-hosted quartz veins similar to those defined within Montero's Isabella East and Isabella West property blocks. The Isabella Properties are located approximately 200 km south of Santiago and 125 km south of Yamana's Minera Florida mine in the Southern Coastal Range of Chile.
Dr Tony Harwood, President of Montero commented: "Montero has secured additional claims covering a further 7 km strike length along the granite sedimentary contact to the east of the existing Isabella claims. At Isabella, the Company is currently completing a maiden drill program to test 4 priority gold silver vein targets and a sedimentary geophysical target. Further mapping and sampling of these newly acquired claims is underway."
New Exploration License Applications
Montero expanded its land holdings in the Isabella district based on prior geological mapping and surface rocks sampling carried out by the previous property owner. The new claims cover a 21 km2 area immediately east and contiguous to the current Isabella property holdings. Under the regulatory process the licenses will be constituted during Q2 2021 and will be 100% owned by Montero. The new licenses cover an additional 7 km of granite-sediment contact containing numerous, structurally controlled quartz veins within the granite. Previous reconnaissance chip sampling returned values up to 0.85 g/t Au, 23 g/t Ag in exposed veins which ranged up to 4 m in width.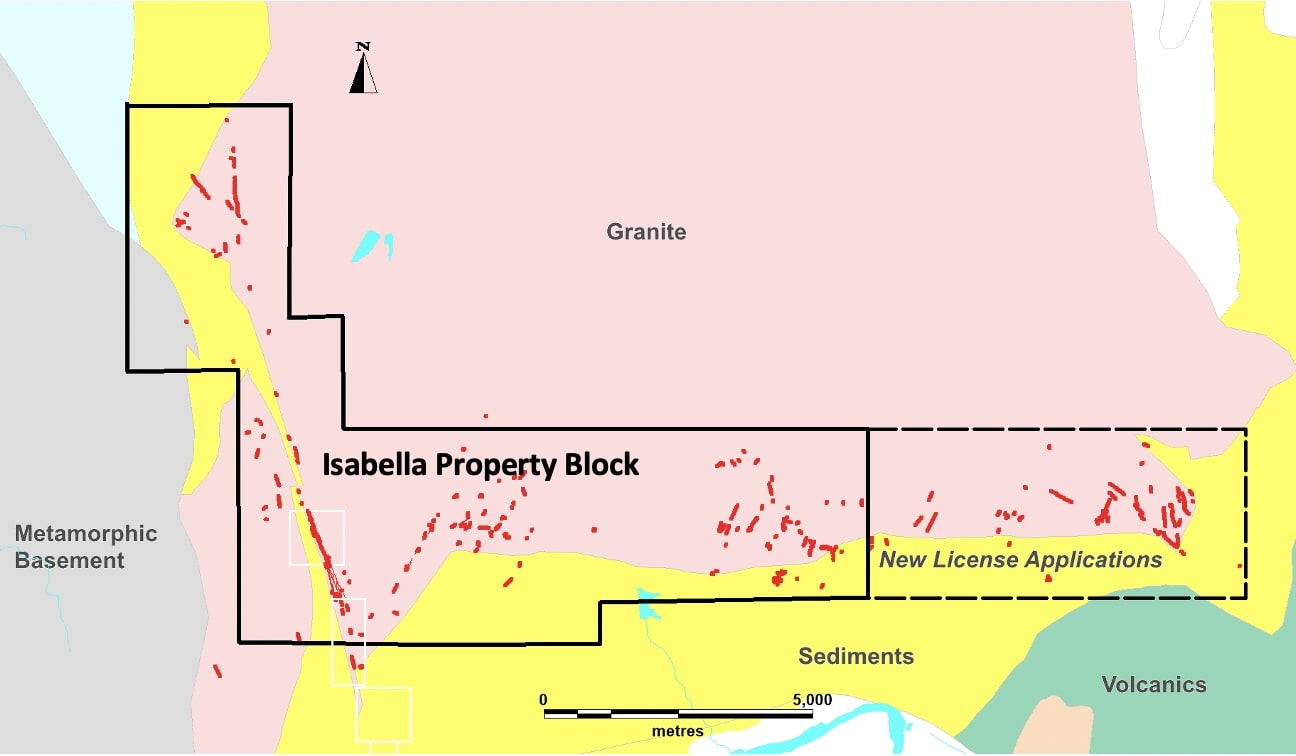 Figure 1: Isabella's new license applications covering 7 km of granite-sediment contact hosting quartz veins (shown in red).
Qualified Person Statement
This press release was reviewed and approved by Mr. Mike Evans, M.Sc. Pr. Sci. Nat., who is a qualified person for the purpose of National Instrument 43-101 and a Consulting Geologist to Montero. A review was also undertaken by Sr. Marcial Vergara B.Sc. who is resident of Chile and a Qualified Person for the purpose of National Instrument 43-101 and a technical advisor to Montero. Sr. Vergara has extensive experience in gold exploration in Chile.
About Montero
Montero is a junior exploration company focused on finding, exploring, and advancing globally significant gold deposits in Chile. The Company is in the process of relinquishing its portfolio of battery metal projects in Africa to focus on gold opportunities in Chile. Montero's board of directors and management have an impressive track record of successfully discovering and advancing precious metal projects. Montero trades on the TSX Venture Exchange under the symbol MON and has 38,647,485 shares outstanding.
Share This