Isabella Gold Project
Click here to view the NI 43-101 Technical Report.
Location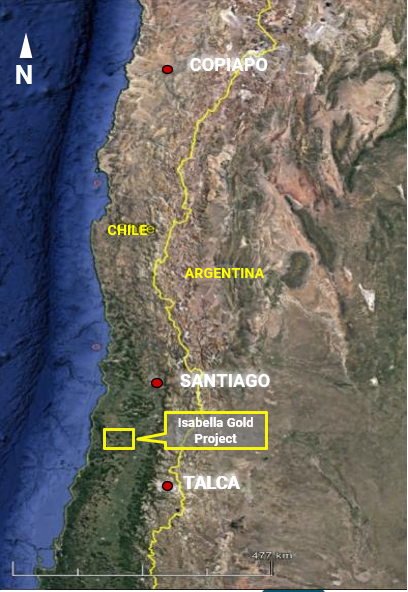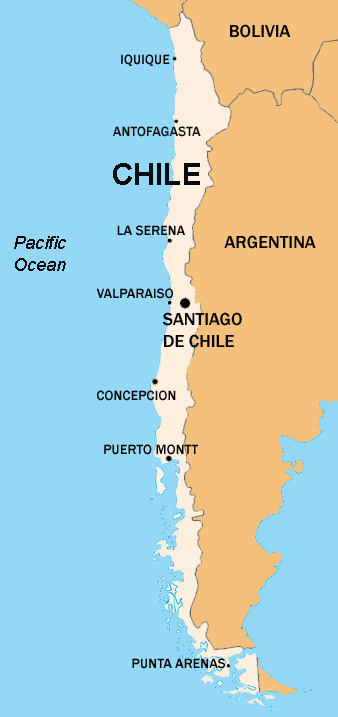 Project Summary
Target Style

Orogenic & intrusive related gold systems
Granite hosted gold-silver quartz vein systems along sediment contact
Geology
Coastal Range geology of southern Chile
Mesozoic suite of intermediate intrusive, clastic sediments and volcaniclastics
Exploration Potential 
Region hosts numerous gold occurrences but has seen no modern exploration
Mine Comparable
Vein textures and mineralogy similar to Yamana's Minera Florida Mine located 125 km to the north-west in the southern Coastal Range
Location
Administrative division of Maule, closest large town is Talca
Property Size
Montero Ownership
Isabella West: 85 % interest in 3,875 ha, obtain 100 % with payment of US$100,000 by June 2021
Isabella East: Earn-in to 85 % interest in 1,056 ha with payments of US$450,000 by August 2022 (15 % may be converted to a 2 % NSR with an option to purchase for US$2 million)
Isabella Oriental: 100 % interest in 1,800 ha
Work Completed
Property consolidation, mapping, grab sampling, trenching and geophysics
Drill Targets
4 drill ready targets defined to date
Permitting
Priority drill target areas fully permitted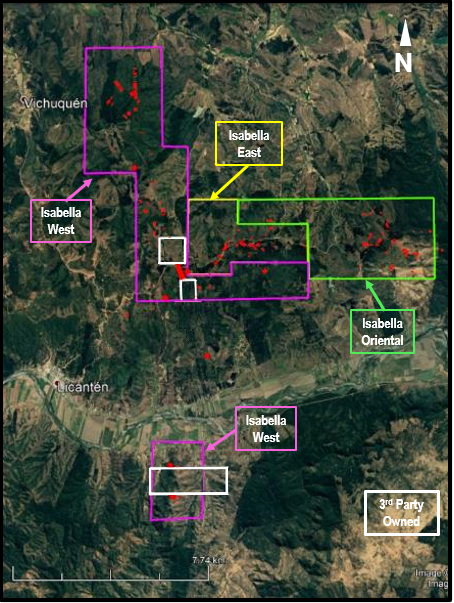 Property Package
Highlights
Excellent Infrastructure: The town of Hualane lies to the south of the property and serves as a logistical base for exploration teams. The property is 70 km north of Talca which is linked by the national road network to Santiago 260 km to the north.
Excellent Perspectivity: High-grade gold and silver mineralization has been observed and assayed in grab samples and trenches.
The principle mineralogical, lithological and structural control required for economic orogenic gold-silver mineralization to occur are present.
Major equity interest in highly prospective area.
Identification of 4 drill ready targets that are fully permitted.
Geological (QP and project geologist) and administrative staff located in Chile and able to work immediately. Drill contractor and assay laboratories available.
Background
In July 2020, Montero acquired a 100 % interest in a private Chilean company ("ChileCo") which holds various mineral rights to exploration claims that make up the Isabella Gold Silver Project in Chile. ChileCo was purchased for a nominal amount and by taking over the earn-in obligations of cash payments totaling US$450,000 to be made by August 2022.
Two subsidiary companies, Isabella East and Isabella West, are subject to joint venture and mining option agreements with local parties.
Montero is reviewing several drill target areas that have been identified and permitted for drilling by the previous owners to commence a drill program.

Work Completed to Date
Previous work: Private Chilean company consolidated land package and completed surface work and geophysics including:
Geological Mapping: 67 km2 completed
Surface sampling: 310 grab samples from quartz veins
Trenches: 200 m completed across quartz vein arrays
Geophysics:

 

101 line km of magnetometry completed
Drill Read: 4 priority drill target areas have been defined
Drill permitting : Drilling permits in place with landowners
Blue sky target: Sediment hosted mineralization
Results From Previous Work
Primary target: Structurally controlled quartz vein arrays containing gold & silver.

Results of Mapping
Structurally controlled quartz veins located along granite-sediment contact
High grade Au-Ag quartz veins along dominant NNW and NE structural trends
Extensive system of quartz veins
Parallel & individual veins up to 5 m wide over 25 km length along granite contact
Rock Chip and Grab sampling* of Quartz Veins
310 surface samples taken
30 % (96) provided values > 0.5 g/t Au eq*
17 % (53) provided values > 3.0 g/t Au eq*
Including:
26.76 g/t Au, 11.2 g/t Ag & 7.5 g/t Au, 16.8 g/t Ag
26.76 g/t Au, 31.8 g/t Ag with electrum identified
48.6 g/t Au, 83 g/t Ag & 3.6 g/t Au, 263 g/t Ag
12.55 g/t Au, 629 g/t Ag and 6.4 g/t Au, 98 g/t Ag
Trench sampling* of Quartz Veins
Including :
6.5 g/t Au over 5 m
1.42 g/t Au over 12 m (incl. 3.53 g/t Au over 3 m), and
6.92 g/t Au over 1 m (incl. 2.88 g/t Au over 2 m)
2.7 g/t Au, 204 g/t Ag from 1 m wide vein
* Rock chip, grab & trench samples from exposed vein material are not considered representative of the overall concentration of mineralization in any particular vein. Samples were collected in accordance with industry best practices and analyzed by ALS Chile under the supervision of a qualified person. No independent sampling has been completed by Montero.

Geophysics
101 line km magnetic survey completed
Elevated gold values in quartz veins are located proximal to magnetic lows & along major structural vein trends
Strong magnetic high zone proximal to the granite/sediment contact
High magnetic zones show potential for sediment-hosted mineralization at depth
Drilling Targets
Four fully permitted drilling targets have been developed based on the surface geological and geophysical exploration work competed to date.
A diamond drill hole program has been developed using the data generated from previous work. A total of 2,600 m of drill holes incorporating an 18 drill hole program to test the mineralized quartz vein targets over a total strike length of 1,350 m. The targets are as follows:
Drill Target A – 6 drill holes (900 m) targeting mineralized quartz veins over 600 m strike length
Drill Target B – 5 drill holes (250 m) targeting mineralized quartz veins over 250 m strike length
Drill Target C – 4 drill holes(600 m) targeting mineralized quartz veins over 350 m strike length
Drill Target D – 3 drill holes (350 m) targeting mineralized quartz veins over 150 m strike length