Exploration and Development Focus
Montero Mining & Exploration is focused primarily on the exploration, discovery and development of mineral resources in Africa to create value for our shareholders and benefit all stakeholders. The company has previously been exploring Rare Earth Element and Phosphates in geographically prospective and under-explored regions in Tanzania and South Africa, respectively.
The Company has embarked on a battery metals strategy and is actively engaged in the identification, acquisition, evaluation and exploration of battery metals in prospective Tier 1 countries of southern Africa and in Chile, a Tier 1 country in South America  Montero has entered the lithium exploration field with a focus on high-grade lithium LCT-type pegmatite deposits with spodumene as the main lithium-bearing mineral in Namibia. Other valuable base and rare metals are associated with such pegmatite deposits such as tantalum, niobium, tin, and other rare metals.
Montero has also made a lithium discovery in the Lithium Triangle of Chile, South America. Montero has been awarded Exploration Licenses over an area of 138km2 in the Atacama region of norther Chile.
The board and management of Montero has exploration and development experience in southern Africa with an operational base in Johannesburg, South Africa. In Chile Montero personnel has experience and has also built on the expertise of a "discovery group" of geologists and local QP's with extensive experience in lithium in Chile.
Montero aims to build a portfolio of value-add mineral projects through application, exploration and acquisition and potentially bring such projects to production through joint venture or outright sale. Montero intends to operate in an environmentally and socially responsible manner while adding value to all our stakeholders and shareholders. We are respectful of local communities in which we operate.
Why Namibia?
Namibia is a Tier 1 African mining investment destination located in southern Africa. Recent mining investments include over $1 billion by CGNPC of China to develop the Swakup uranium Husab mine and the $244 million investment by B2Gold to develop the Otjikoto gold mine. The country has a long history of mining and is a free and open democracy with a stable Government open to mining investment. Namibia has good infrastructure with a deep-water port at Walvis Bay, the necessary skills base and attractive fiscal regime for mining investment.
Montero has targeted hard rock pegmatite deposits rich in lithium or Lithium-Cesium-Tantalum (LCT) Pegmatites. Four major LCT pegmatite belts that trend in a north-east direction have been targeted, one of these contains one of the few lithium mines located in Africa. The pegmatites in these belts have previously been mined or prospected for tin and tantalum which is often associated with lithium minerals. Montero has focused on targeting the main economic lithium minerals spodumene and lepidolite. Tin and tantalum association with lithium also potentially provides additional economic benefit to the mining of the lithium.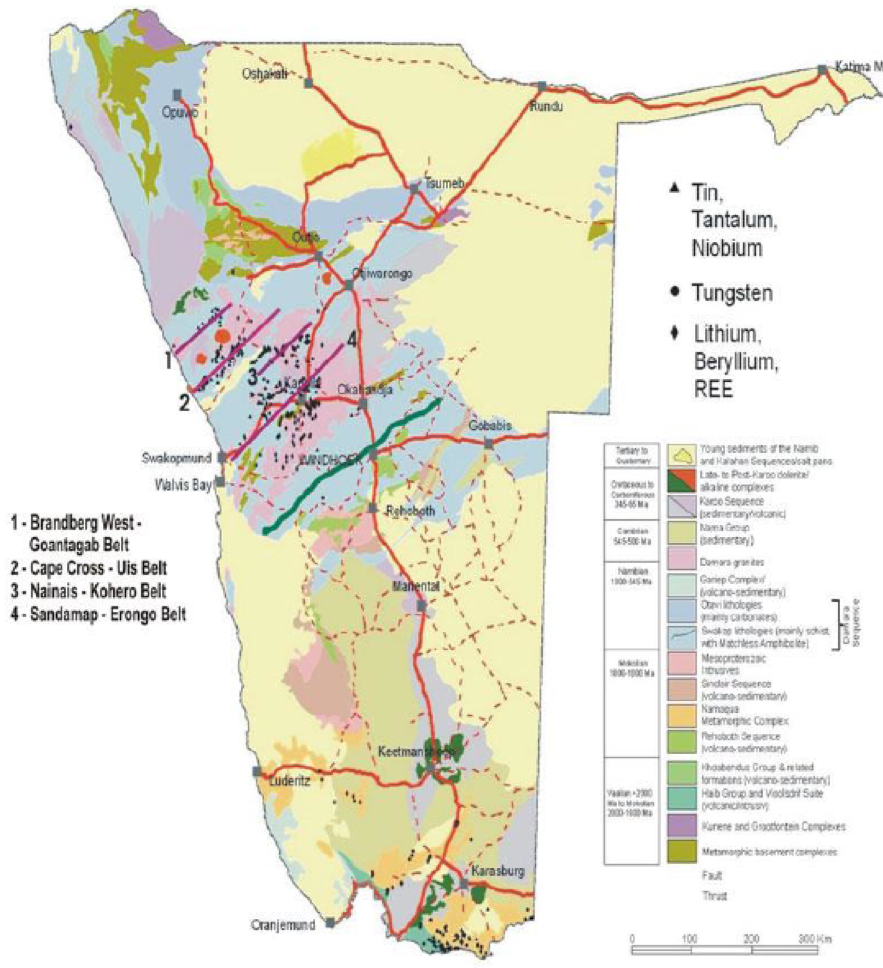 Why Chile?
The largest global resources of lithium occur as "Salar brine deposits" located in the Lithium Triangle of South America covering the countries of Chile, Argentina and Peru.
Chile has a strong mining history and is a favoured global destination for mining and battery metals exploration. The country has significant lithium endowment and the "Salar de Atacama" is the world's largest source of lithium containing 27% of the global lithium reserve base. Major lithium producers operating in Chile include SQM (NYSE) and Albemarle (NYSE). The country's lithium exports rose to almost a $ 1 billion in 2018. Chile has a stable government that encourages foreign investment with favourable tax treatment on capital expenditure and good corporate tax rate and Government royalty. Chile has good national infrastructure and a mining culture with a large skills base.
Montero has been awarded Exploration Licenses over an area of 138km2 in the Lithium Triangle of norther Chile. The Avispa Lithium Project is a Montero discovery and is located in the Atacama region about 80km west of the town of Calama and 220km north east of Antofagasta, Chile's largest commercial deep-water port. The project is connected by asphalt road to the ports of Tocopilla and Antofagasta. The Avispa project is approximately 210km by road from the "Salar de Atacama" where SQM and other are mining companies have major lithium mines recovering lithium from brines. The license area was previously held by Spence Mining, a subsidiary of BHP, that was exploring and drilling for copper-molybdenum mineralization.